We confirm receipt of noncommittal demand
Demanded machine: OR 71 F
Firstname:
Phone:
E-mail:
Your inquiry:
Destination country:
We will contact you as soon as possible using given contact details.
Back to website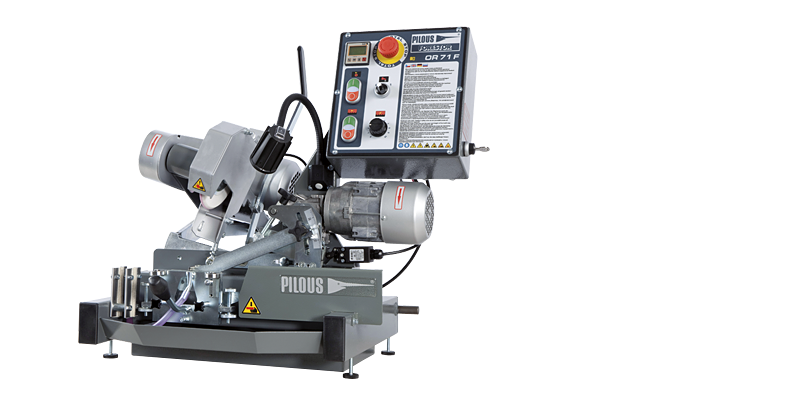 Semiautomatic sharpener OR 71 F
New generation of sawblade sharpener OR 71 F can sharpen blades of up to 70 mm. Completely new system of tooth shape setting. The sharpener has its own integrated cooling system, lamp and frequency converter to enable continuous adjustment of the sawblade feed speed.
Accessories:
base
stone grinding wheel (traces the tooth shape by means of an adjustable cam system and enables setting of any tooth shape and size).
diamond paste (applied to the stone grinding wheel, improves roughness and extends the life of the grinding wheel).
| | |
| --- | --- |
| Width of sharpened saw bands | 15 -70 mm |
| Length of sharpened saw bands | 6,8 m |
| Thickness of sharpened saw bands | 2 mm max. |
| Tooth pitch | 8 - 35 mm |
| Band feed rate | 8 - 40 zubů/min |
| Grinding wheel drive motor | 0,18 kW |
| Saw band feed motor | 0,25 kW |
| Coolant pump motor | 0,09 kW |
| External dimensions of the sharpener | 780 x 500 x 670 mm |
| Weight without / with the base | 66 / 87 kg |
| Total wattage | 0,53 kW |
| Grinding wheel dimensions | 150 x 8 -10 x 20 mm |
Semiautomatic sharpener OR 71 F

New generation of sawblade sharpener OR 71 F can sharpen blades of up to 70 mm. Completely new system of tooth shape setting. The sharpener has its own integrated cooling system, lamp and frequency converter to enable continuous adjustment of the sawblade feed speed.

Accessories:

base
stone grinding wheel (traces the tooth shape by means of an adjustable cam system and enables setting of any tooth shape and size).
diamond paste (applied to the stone grinding wheel, improves roughness and extends the life of the grinding wheel).

| | |
| --- | --- |
| Width of sharpened saw bands | 15 -70 mm |
| Length of sharpened saw bands | 6,8 m |
| Thickness of sharpened saw bands | 2 mm max. |
| Tooth pitch | 8 - 35 mm |
| Band feed rate | 8 - 40 zubů/min |
| Grinding wheel drive motor | 0,18 kW |
| Saw band feed motor | 0,25 kW |
| Coolant pump motor | 0,09 kW |
| External dimensions of the sharpener | 780 x 500 x 670 mm |
| Weight without / with the base | 66 / 87 kg |
| Total wattage | 0,53 kW |
| Grinding wheel dimensions | 150 x 8 -10 x 20 mm |