CTR 750 GX MOBIL
Log band saw
We confirm receipt of noncommittal demand
Demanded machine: CTR 750 GX MOBIL
Firstname:
Phone:
E-mail:
Your inquiry:
Destination country:
We will contact you as soon as possible using given contact details.
Back to website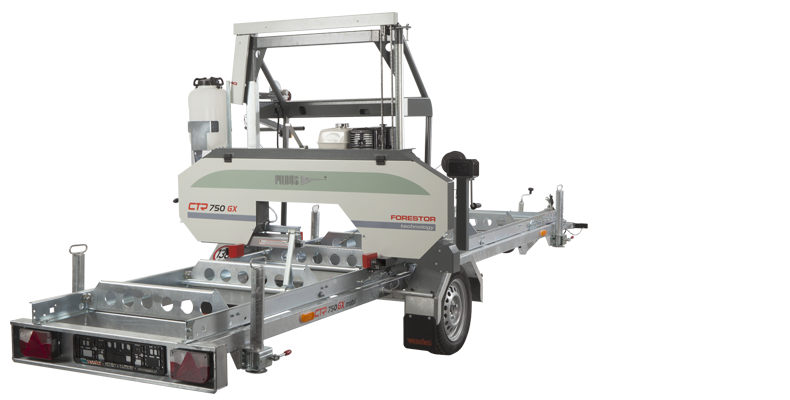 4140 x 34-35 x 0,9-1,0 mm
Feed into the cut and back – hand-operated
Arm height adjustment – manual
Control panel – on a mobile bridge
Log handling – manual
Total sawing length: 4,2 m
The machine is mounted on a stable trailer that allows easy transport of the machine to the sawing location.
The total weight of CTR 750 GX mobil with a trailer is 661 kg.
Check your vehicle's registration card for the maximum permissible trailer weight!
The trailer is fitted with six robust, infinitely adjustable support legs. These ensure stability both when loading and handling the log and during the sawing itself. Easy loading of the log onto the loading area of the machine using a manual winch and a path for log rolling (accessory). The trailer is homologated, including travel sections, material clamps and tilting plates. When applying for a new MOT test certificate, it is necessary to remove the travel bridge with the saw band arm.
Easy disassembly and reassembly. The trailer is single-axle and non-braked. The delivery also includes a waterproof tarpaulin, protecting the bridge with the saw band arm from rain during transport or parking. For secure fastening, the tarpaulin is fitted with grommets and a steel cable with ends allowing the use of a padlock. The maximum permissible speed is 130 km/h.
In contrast to the standard version the band saw is equipped with a professional Honda 8.7 kW (11 HP) petrol engine. Sufficient engine power allows trouble-free processing of logs of large diameters in all applications without the possibility of using an electric motor. Overall low weight allows easier transport of the machine. Due to higher weight and vibrations of petrol engine the construction of travelling bridge and saw band arm is completely reinforced. It is designed primarily for cutting smaller volumes of lumber. Ideal solution for family farms, joiners' workshops or small sawmills. Very simple hand feed into the cut and back. The control panel is placed on a mobile bridge of the saw band arm. Thanks to that the operator has closer access to the workpiece when cutting. Height is adjusted using a hand crank with adjustable scale.
The base cutting length can be extended using the Mobil extending section, see accessories.
The bigger and stronger version of the popular CTR 550 allows for processing of logs up to 75 cm in diameter. It also uses a bimetallic metal-cutting saw bands, but it is one size bigger. While the size of the bimetallic saw band in CTR 550 is 27 x 0.9 m, the size of the band in CTR 750 is 34 x 1.1 mm which, combined with a powerful 5.5 kW engine can deal with logs of large diameters. Simple hand feed into the cut and back. Height is adjusted using a hand crank with adjustable scale.
Use of a bimetallic saw band which is normally used in metal band saws brings following advantages:
very simple operation
single saw band cuts all types of wood without tooth adjustment (sharpening, tooth setting)
elimination of tedious, technically challenging sharpening and setting of teeth
you can immediately start cutting wood in professional quality without any necessary experience
bimetallic saw band easily cuts metal materials in the log such as nails, shrapnel or bullets
professional three-side hardmetal saw band guidance in guiding heads and robust support of all rotary parts ensure high cutting accuracy and long service life of the saw band
maximum accuracy, like in professional machines
no need to purchase tooth sharpener and tooth setting machine
easy accessibility and low cost of bimetallic saw bands
Instead of bimetallic metal-cutting band sized 34 x 1.1 mm you can use a special bime-tallic wood-cutting band sized 35 x 0.9 mm which (same as the bimetallic metal-cutting band) does not require sharpening and setting of teeth. You can also fit your machine with standard saw-cutting bands (35 x 0.9 mm) identical to those used in higher professional models CTR 710, 800 and 950. Larger teeth in these saw bands allow for increase of productivity when cutting large diameter logs. However, in the above mentioned saw bands it is necessary to sharpen and set the teeth regularly.
The arm is fitted with large aluminium running wheels with accurate balancing against vibrations. The wheel has a groove along its circumference. The groove holds a replaceable rubber-textile belt which creates an optimum contact area between the wheel and the saw band.
The sturdily mounted running wheel is powered through a wedge belt by a professional electrical motor speciallybalanced against vibrations. The tensioning wheel system moves within a solid cast iron guiding, which ensures long-term service life and setting accuracy even in long-term machine operation.
CTR series present the latest trends in construction of log saw bands with a special emphasis on maximum accuracy and long-term service life of the machine while ensuring minimum costs. The machines are designed in an original modular execution which allows easy replacement or adjustment of all main technical sections and their individual parts. This in the long-term perspective reduces the maintenance costs and service times and therefore production stoppages as well.
| | |
| --- | --- |
| Max. log diameter | 750 mm |
| Max. opening betwen blade guides | 620 mm |
| Max. elevation of blade | 660 mm |
| Min. log height |   25 mm |
| Max. depth of cut | 255 mm |
| Total sawing length | 4,2 m |
| Min. log length | 0,75 m |
| Length extending section | 2,25 m |
| Total length of the machine including the trailer | 6.489 mm |
| Saw blade motor | 8,7 kW (11 HP) |
| Sawblade | 4140 x 34 x 1,1 mm |
| Trailer weight | 396 kg |
| Total weight of the machine including the trailer | 661 kg |
| Extending section weight | 106 kg |
SPECIAL ACCESSORIES
Extending section Mobil 2,25 m

The cutting length of one section is 2.25 metres and the sections can be connected to each other. It can extend the total cutting length of mobile log band saws. The extending section consists of a very stable support structure that holds travel sections of the same design as those on the trailer. The Mobil extending section is fitted with four sturdy, continuously adjustable support legs. These ensure stability both when loading and handling the log and during the sawing itself. The Mobil extending section forms a separate unit. Due to its weight, it must not be transported on the trailer. It must be transported separately, either as a whole or disassembled.
CONSUMABLE PARTS
Feed into the cut and back – hand-operated
Arm height adjustment – manual
Control panel – on a mobile bridge
Log handling – manual
Total sawing length: 4,2 m

The machine is mounted on a stable trailer that allows easy transport of the machine to the sawing location.

The total weight of CTR 750 GX mobil with a trailer is 661 kg.

Check your vehicle's registration card for the maximum permissible trailer weight!

The trailer is fitted with six robust, infinitely adjustable support legs. These ensure stability both when loading and handling the log and during the sawing itself. Easy loading of the log onto the loading area of the machine using a manual winch and a path for log rolling (accessory). The trailer is homologated, including travel sections, material clamps and tilting plates. When applying for a new MOT test certificate, it is necessary to remove the travel bridge with the saw band arm.

Easy disassembly and reassembly. The trailer is single-axle and non-braked. The delivery also includes a waterproof tarpaulin, protecting the bridge with the saw band arm from rain during transport or parking. For secure fastening, the tarpaulin is fitted with grommets and a steel cable with ends allowing the use of a padlock. The maximum permissible speed is 130 km/h.

In contrast to the standard version the band saw is equipped with a professional Honda 8.7 kW (11 HP) petrol engine. Sufficient engine power allows trouble-free processing of logs of large diameters in all applications without the possibility of using an electric motor. Overall low weight allows easier transport of the machine. Due to higher weight and vibrations of petrol engine the construction of travelling bridge and saw band arm is completely reinforced. It is designed primarily for cutting smaller volumes of lumber. Ideal solution for family farms, joiners' workshops or small sawmills. Very simple hand feed into the cut and back. The control panel is placed on a mobile bridge of the saw band arm. Thanks to that the operator has closer access to the workpiece when cutting. Height is adjusted using a hand crank with adjustable scale.

The base cutting length can be extended using the Mobil extending section, see accessories.

The bigger and stronger version of the popular CTR 550 allows for processing of logs up to 75 cm in diameter. It also uses a bimetallic metal-cutting saw bands, but it is one size bigger. While the size of the bimetallic saw band in CTR 550 is 27 x 0.9 m, the size of the band in CTR 750 is 34 x 1.1 mm which, combined with a powerful 5.5 kW engine can deal with logs of large diameters. Simple hand feed into the cut and back. Height is adjusted using a hand crank with adjustable scale.

Use of a bimetallic saw band which is normally used in metal band saws brings following advantages:

very simple operation
single saw band cuts all types of wood without tooth adjustment (sharpening, tooth setting)
elimination of tedious, technically challenging sharpening and setting of teeth
you can immediately start cutting wood in professional quality without any necessary experience
bimetallic saw band easily cuts metal materials in the log such as nails, shrapnel or bullets
professional three-side hardmetal saw band guidance in guiding heads and robust support of all rotary parts ensure high cutting accuracy and long service life of the saw band
maximum accuracy, like in professional machines
no need to purchase tooth sharpener and tooth setting machine
easy accessibility and low cost of bimetallic saw bands

Instead of bimetallic metal-cutting band sized 34 x 1.1 mm you can use a special bime-tallic wood-cutting band sized 35 x 0.9 mm which (same as the bimetallic metal-cutting band) does not require sharpening and setting of teeth. You can also fit your machine with standard saw-cutting bands (35 x 0.9 mm) identical to those used in higher professional models CTR 710, 800 and 950. Larger teeth in these saw bands allow for increase of productivity when cutting large diameter logs. However, in the above mentioned saw bands it is necessary to sharpen and set the teeth regularly.

The arm is fitted with large aluminium running wheels with accurate balancing against vibrations. The wheel has a groove along its circumference. The groove holds a replaceable rubber-textile belt which creates an optimum contact area between the wheel and the saw band.

The sturdily mounted running wheel is powered through a wedge belt by a professional electrical motor speciallybalanced against vibrations. The tensioning wheel system moves within a solid cast iron guiding, which ensures long-term service life and setting accuracy even in long-term machine operation.

CTR series present the latest trends in construction of log saw bands with a special emphasis on maximum accuracy and long-term service life of the machine while ensuring minimum costs. The machines are designed in an original modular execution which allows easy replacement or adjustment of all main technical sections and their individual parts. This in the long-term perspective reduces the maintenance costs and service times and therefore production stoppages as well.

| | |
| --- | --- |
| Max. log diameter | 750 mm |
| Max. opening betwen blade guides | 620 mm |
| Max. elevation of blade | 660 mm |
| Min. log height |   25 mm |
| Max. depth of cut | 255 mm |
| Total sawing length | 4,2 m |
| Min. log length | 0,75 m |
| Length extending section | 2,25 m |
| Total length of the machine including the trailer | 6.489 mm |
| Saw blade motor | 8,7 kW (11 HP) |
| Sawblade | 4140 x 34 x 1,1 mm |
| Trailer weight | 396 kg |
| Total weight of the machine including the trailer | 661 kg |
| Extending section weight | 106 kg |

SPECIAL ACCESSORIES

Extending section Mobil 2,25 m

The cutting length of one section is 2.25 metres and the sections can be connected to each other. It can extend the total cutting length of mobile log band saws. The extending section consists of a very stable support structure that holds travel sections of the same design as those on the trailer. The Mobil extending section is fitted with four sturdy, continuously adjustable support legs. These ensure stability both when loading and handling the log and during the sawing itself. The Mobil extending section forms a separate unit. Due to its weight, it must not be transported on the trailer. It must be transported separately, either as a whole or disassembled.

CONSUMABLE PARTS