RW 100
Manual tooth setter
We confirm receipt of noncommittal demand
Demanded machine: RW 100
Firstname:
Phone:
E-mail:
Your inquiry:
Destination country:
We will contact you as soon as possible using given contact details.
Back to website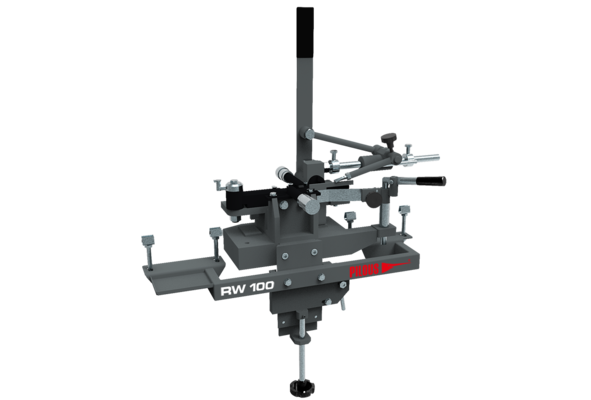 A sturdy cast iron design ensures a long life of the machine and the maximum accuracy of setting. Two teeth (right, left) or three teeth (right, left, straight) are set at the same time with a single lever movement. Price including a saw setting indicator. Saw band setting up 15 to 100 mm width.
Accessories:
| | |
| --- | --- |
| Size of setting to one side up | do 1 mm |
| Accuracy of setting | + - 0 ,05 mm |
| Setting speed | up to 70 teeth /1 minute |
| Saw blade width | 15 - 100 mm |
| Tooth pitch | 8 - 30 mm |
| Tooth height | 5 - 16 mm |
| Saw blade thickness | up to 1,3 mm |
| Weight excluding/including base   | 35 kg / 56 kg |
A sturdy cast iron design ensures a long life of the machine and the maximum accuracy of setting. Two teeth (right, left) or three teeth (right, left, straight) are set at the same time with a single lever movement. Price including a saw setting indicator. Saw band setting up 15 to 100 mm width.

Accessories:

| | |
| --- | --- |
| Size of setting to one side up | do 1 mm |
| Accuracy of setting | + - 0 ,05 mm |
| Setting speed | up to 70 teeth /1 minute |
| Saw blade width | 15 - 100 mm |
| Tooth pitch | 8 - 30 mm |
| Tooth height | 5 - 16 mm |
| Saw blade thickness | up to 1,3 mm |
| Weight excluding/including base   | 35 kg / 56 kg |