We confirm receipt of noncommittal demand
Demanded machine: OR 50
Firstname:
Phone:
E-mail:
Your inquiry:
Destination country:
We will contact you as soon as possible using given contact details.
Back to website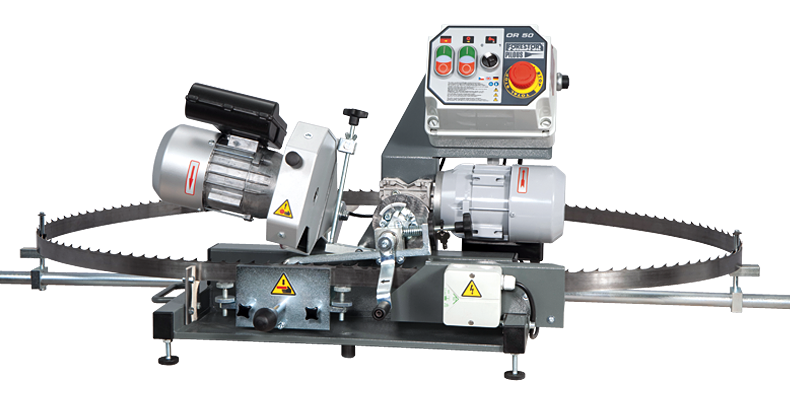 Semiautomatic sharpener OR 50
An extraordinarily study and professional workmanship of the sharpener guarantees an accurate saw blade sharpening – the basic condition for productive and quality cutting on any bandsaw mill. The stone grinding wheel is a thin grinding wheel that traces the tooth shape by means of an adjustable cam system. This system enables setting of any tooth shape and size.
Accessories:
base
halogen lamp
cooling system
| | |
| --- | --- |
| Width of sharpened saw bands | 20 - 50 mm |
| Length of sharpened saw band | 2000 - 5000 mm |
| Saw band thickness | up to 2 mm |
| Tooth pitch | 8 - 30 mm |
| Manual band feed | 5 teeth / min. |
| Band feed by motor | 35teeth / min. |
| Motor of grinding disk drive | 0,12 kW / 230V, 50Hz |
| Motor of saw band drive | 0,18 kW / 230V, 50Hz |
| Cooling pump motor | 0,09 kw / 230V, 50Hz |
| Outside dimensions of grinding machine | 750 x 750 x 350 mm |
| Weight | 33 kg |
| Total power input | 0,30 kW / 230V , 50Hz |
| Grinding disk size | 175 x 6 x 20 mm |
Semiautomatic sharpener OR 50

An extraordinarily study and professional workmanship of the sharpener guarantees an accurate saw blade sharpening – the basic condition for productive and quality cutting on any bandsaw mill. The stone grinding wheel is a thin grinding wheel that traces the tooth shape by means of an adjustable cam system. This system enables setting of any tooth shape and size.

Accessories:

base
halogen lamp
cooling system

| | |
| --- | --- |
| Width of sharpened saw bands | 20 - 50 mm |
| Length of sharpened saw band | 2000 - 5000 mm |
| Saw band thickness | up to 2 mm |
| Tooth pitch | 8 - 30 mm |
| Manual band feed | 5 teeth / min. |
| Band feed by motor | 35teeth / min. |
| Motor of grinding disk drive | 0,12 kW / 230V, 50Hz |
| Motor of saw band drive | 0,18 kW / 230V, 50Hz |
| Cooling pump motor | 0,09 kw / 230V, 50Hz |
| Outside dimensions of grinding machine | 750 x 750 x 350 mm |
| Weight | 33 kg |
| Total power input | 0,30 kW / 230V , 50Hz |
| Grinding disk size | 175 x 6 x 20 mm |